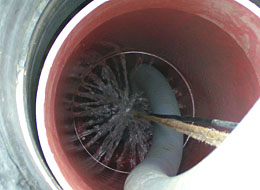 Groundwater lowering - deep well dewatering
If vacuum dewatering is not sufficient to ensure the required dewatering level (because of soils with high water permeability or high quantities of groundwater supply), our deep well dewatering technology offers an economic solution for temporary groundwater lowering, with the following conditions:
Soils with high water permeability:

sand
coarse sand
sandy gravel
in case of cobbly soils or soil layers, and

in case of "sandwich" structure of these soils,
the depth to be dewatered is relatively important, and
water supply of the area to be dewatered is high.
Structural construction of deep wells
Deep wells are filter wells constructed with gravel filter body of a diameter between 600 and 1400 mm, their diameter is between 400 and 600 mm, equipped with a filter surface of an appropriate length. The distance between them is generally 5-25 m. Heavy duty pumps equipped with level control automatics are installed in the wells, connected to an evacuating collector system. In the adjacent wells, the uppermost point of the depression cone formed due to the dewatering activity is the maximum level of the drained groundwater.
Some references of deep well dewatering:
Miskolc, Bosch út, section between 4+000 and 4+300 km, dewatering of earthworks on a section in deep cutting, installation and operation using Siemens-type wells
2006 - STRABAG Zrt.
Budapest, III, Lajos u. 34., Bécsi Corner, dewatering of a construction pit limited by diaphragm walls using deep well dewatering technology
2008 - PORR Építési Kft.
Uzsa, collector sump construction and water drainage in the mine court, by constructing a low-level gravitational system
2009 - BAZALT-KÖZÉPKŐ Kőbányák Kft.